Ever since discovering Netflix, and Hulu Plus, I've been throwing away my social life in exchange for the glorious world of series. I can honestly tell you that if you compare how many series I watched before opening my Netflix account and after, the after tally will be exponentially higher.
Netflix and Hulu helped me discover new shows, as well as helped me catch up on all those shows I wanted to catch up on. Here's a look of what a normal (non-hiatus) week looks like for me:
Mondays:

Mondays for me are How I Met Your Mother day. This is HIMYM's last season, so there are definitely a lot of feels going around. I desperately wait for each episode to come out as soon as soon as I finish the one I'm currently watching. I can't wait to finally see one of the funniest (in my opinion) series on TV to end.  I want my questions to be answered, but most of all I want a sense of closure with this show, and I want Ted to finally meet his future wife (I mean, c'mon, 8 years is enough waiting time!).
Tuesdays: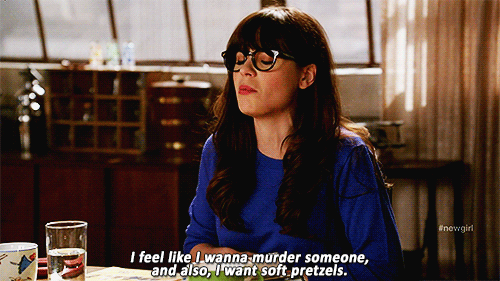 New Girl with Zooey Deschanel and Jake Johnson is one show that I never tire of. Ever since it premiered in 2011, I've watched episodes on and off, until October of last year when I saw all 2 seasons in 2 weeks (I had tests to take, if not it would have been much faster!). Each episode is quirky and adorable. Jess is the protagonist, and she's so bubbly and weird, that a lot of Tumblr users have labeled her as their "spirit animal". All my friends have recently fallen in love with this show after much persistance on my part. 🙂 I love this show because you don't need to take it so seriously. When you're stressed out, and need a great laugh, you can turn on the TV and enjoy.
Wednesdays:
Wednesdays are all for Arrow. I don't know it it's the geek within me, but Arrow is one of my favorite shows. I literally watched all of the episodes (Roughly 33 40-minute episodes) in 3 days! That's how much I enjoyed it. The appeal for me with this show, is the fact that even if it's action-packed, it still has room for quirky and hilarious situations. Also, after every episode ends, you'll need the next one in your hands immediately!  I haven't read the comics, and am not planning to, but from what I've heard, it's been pretty creative yet still hung true to the original story.
Thursdays:
White Collar is one show that I watch on and off, and yet enjoy so much. This season is getting more action-packed by the second, and I can't wait to see where it will go! Also, Matt Bomer. (That's enough reason to watch it!)
Fridays:
Every Friday, I have a date with Jonathan Rys Meyers and the show he stars in: Dracula. This show is based on the classic Bram Stoker story that we all know and love. Think you know everything there is to know about Dracula? You're wrong. This show has an AMAZING cast, and such great acting! Jonathan Rys Meyers captures Dracula in a way I never thought anyone could. He portrays the ruthlessness needed to be a creature of the night, but at the same time can display moments of heartbreaking humanity that just blow you away. By the second episode, I was already hooked. I definitely forgive him for being Valentine in the City of Bones movie.
Saturdays:
I use Saturdays to either watch Law & Order and NCIS marathons on TV, OR to catch up on all of the shows I'm still behind on. Call these my "lazy" tv series days. Haha.
Sundays:
I was a hardcore fan of Once Upon a Time since season 1. I used to ignore all my school-work and just tune into it Sundays at 8. All this changed once season 3 came around and my service provider decided to take away my ABC channel. Nevertheless, I will eventually get up to speed on this show, and it will once again take importance over all my other duties on Sundays. 🙂
Petition for the government to make more days of the week so I can watch series faster! Haha. Forgive me for this being a non-book related post, but I just love gushing about the shows I love!
(This is a non-sponsered post, I merely mentioned Netflix and Hulu because I watch most of my series through them.)
Anyways, there are TONS of shows that I watch, but here are just some of them.
What are your favorite shows? Let me know in the comments below!
The following two tabs change content below.
I'm Marianne. Professional Fangirl, part-time Blogger. Full-time college student. GIFs are a natural part of my posts, so be warned. I LOVE reading, so definitely feel free to discuss books with me. Opinions are welcome.
Latest posts by Marianne @ Boricuan Bookworms (see all)
Related Posts