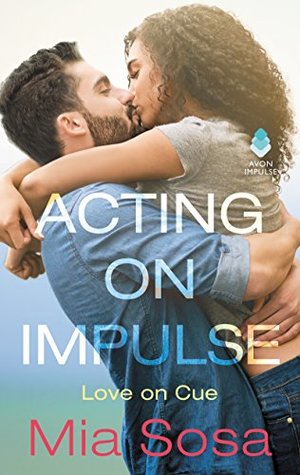 Acting on Impulse

by Mia Sosa
Genres: Adult, Contemporary, Romance
Series: Love On Cue #1
Published by Avon Impulse on September 19th 2017
Source: Edelweiss, Provided by Publisher
Goodreads
Amazon, Barnes & Noble

After a very public breakup with a media-hungry politician, fitness trainer Tori Alvarez escapes to Aruba for rest, relaxation, and copious amounts of sex on the beach—the cocktail, that is. She vows to keep her vacation a man-free zone but when a cute guy is seated next to her on the plane, Tori can't resist a little harmless flirting.

Hollywood heartthrob Carter Stone underwent a dramatic physical transformation for his latest role and it's clear his stunning seat mate doesn't recognize the man beneath the shaggy beard and extra lean frame. Now Carter needs help rebuilding his buff physique and Tori is perfect for the job. It doesn't hurt that she makes his pulse pound in more ways than one.

Sparks are flying, until a pesky paparazzo reveals Carter's identity. Tori is hurt and pissed. She wants nothing to do with another man in the limelight, but she's still got to whip him into shape. Can Carter convince Tori he's worth the threat to her privacy that comes with dating a famous actor, or will Tori chisel him down to nothing before he even gets the chance?
"I didn't know her name, nationality, age, or occupation, but I know this: Someday I'm going to marry the woman sitting in 12D."
Marianne's Review:
"I didn't know her name, nationality, age, or occupation, but I know this: Someday I'm going to marry the woman sitting in 12D."
So that's how Acting on Impulse begins, and it's a pretty memorable opening line. I loved a lot of things about this romance novel, but I think one of the most important things was the way it was written. The dialogue is funny and fresh, and I like that sometimes the main narrators would address the readers directly. It made the whole thing play out like a hilarious rom com in my head, which made it all the better.
I loved Tori Alvarez from the very first moment. She's a physical trainer determined to make her mark and help others. Tori's philosophy is "siempre pa lante, nunca pa tras", and she has no reservations about giving you a piece of her mind. My favorite thing about Tori was the fact that she was afro-Puerto Rican. I love when my culture is represented, and I really enjoyed reading about Tori & her family, and all the delicious descriptions of Puerto Rican food. (p.s. this is an #ownvoices novel!)
Carter is a big celebrity, and seeing his thought process was the most hilarious part of the book. He basically worshipped the ground Tori walked on, even before actually knowing her. This sounds bad, but it was actually pretty endearing. Carter is a completely developed character, with hopes and aspirations just like Tori, and I think a lot of us readers can relate to being completely infatuated with someone at first sight.
The romance is honestly the best. Their interactions always set off sparks and had me cackling. Tori always kept Carter on his toes while he always tried his best to tear her defenses down. It was great to see them both talking out their feelings and supporting each other throughout the book as well, because it really showed that they were a really good match.

Acting on Impulse is swoony, funny, and original. This is a story I'm glad to have gotten the opportunity to read, and I hope more people read and support this author, since the sequel also looks amazing! I mean, look at the cover!
Aesthetic Board:
The following two tabs change content below.
I'm Marianne. Professional Fangirl, part-time Blogger. Full-time college student. GIFs are a natural part of my posts, so be warned. I LOVE reading, so definitely feel free to discuss books with me. Opinions are welcome.
Latest posts by Marianne @ Boricuan Bookworms (see all)
Related Posts