You might be wondering why we would even ask ourselves this, heck we're even wondering ourselves! But, the truth of the matter is that we read YA and most YA characters are usually 15-17 years old. Marianne is 18, Jennifer is 17, so it's safe to say that we're both a little bit older than most Book Boyfriends… Here at Boricuan Bookworms we have this feature that we used to do a while ago, called My Perfect Boyfriend. That's where we basically swooned over our favorite book boyfriends and such. Thing is, we've never stopped to actually think about their ages…
Whenever you read a YA book, whether if it's a sci-fi, or a dystopian, or a mystery, you'll always find some sort of romance.
Sometimes, (most of the time), they turn out to be these mushy, romantic, swoony romance books! And then, it gets worse because you start falling in love with the characters in the book! Does this make you a bad person?
Well, I'm 18 years old. And YA is my favorite genre. This means that all of my book boyfriends are around 16-17 years old. This doesn't sound too bad …right? That is… if we just try not to think about the fact that one of my youngest book boyfriends is 14 (Sage from The False Prince)…
Before you run away screaming or try calling the authorities or something, hear me out!
First of all, there are a series of factors I take into consideration when falling (or not) for a book boy:
Looks (because, duh)
Personality
Does he make me laugh?
Is he witty?
Is he smart?
Is he charming?
How does he treat others?
Is he respectful?
Would I let him break my heart?
Would I ever let him kiss me?
And notice that none of those factors ever mentioned age. That's because I don't really pay attention to age when I'm reading a book. If I did that, then I'd probably never fall for a book guy!
I think this is the reason why I've been reading New Adult romances lately… I mean the main characters are usually around my age (or older) therefore I don't feel as that acting pedophilic in any way!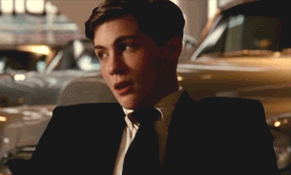 I think I also blame the media. They make us believe that 16 & 17 year olds look like:
When they don't! They look nothing like that (well, there are exceptions, but…). We are being fed the completely wrong idea that 16 year olds look like men, that we sadly can't help but fall for!
In a way, I also blame authors, because they describe these male interests as these drop-dead gorgeous people.. Why can't I have this normal, maybe gawky, lanky (not muscular in any way), brown hair, brown eyes, guy? This guy who is in every way average looking, yet steals our hearts regardless?
Now, back to the original question: Is Your Book Boyrfriend Too Young for You? Probably. But you shouldn't feel bad about it! I hardly doubt that this means you're going to start looking at actual 14 & 15 year olds and say, "Hey, you're really cute. I don't care if I'm 10 years older than you". No! I think you're going to find this guy who is a just the right age for you, and you'll think "Hey, this guy has some characteristics that X character had… I think I may like him".
So, who cares if your book boyfriend is younger than you? When reading a book, you become someone else, you live a different life, so live the life you want to live inside of your books. #LoveTheBookBoyfriends!!
(Jennifer: That Jacob Gif…)
Romance is the most selling genre books in the market, followed by Mystery/Thrillers, according to a book I read a few years ago (I don't have the source). I once went to Borders and from approximately 10 books I took out of a shelve in the young adult section, at least 8 were of romance in any of the areas, specially the paranormal ones. If you search the best-selling lists, one book or the other has romance in either big or small quantities. We can't help it, we love romance and the characters with which we can't help but fall hopelessly in love for. 

When I read I wouldn't really give much notice to the age, because when I was reading I was the main character and it was useless to think of the age. It wasn't until recently that Marianne brought the point that we were falling in love for guys who were either younger or older than us. And not only in books but series and movies too! Do you know David Tennant, from Doctor Who? Well, he could be my father with his age. Now I don't even dare to think I love him other than the character because, for some reason, a 900-or-so Timelord is more bearable than a forty one.
And Sage from The False Prince! He's 14! And Harry Potter, who's 11! Although, at least with Harry, I knew him when I was way younger than that so that's okay. And the same with Percy. But now I'm 17, and I read all kinds of books from Children's to Young Adult and even Adult ones where I keep falling for the main guy.
But like I read in a Tumblr post, when we fall in love with a character, it's like we fall in love with their souls because we don't actually see them in a physical dimension or even know them personally. Through the magic of the book we know them, through the pages we kiss them (and do other stuff…) and love them as if they were people we knew in real life.
My Perfect Book Boyfriends usually have these things in common:
Looks = And I don't mean hunky and full of muscles all the time. They can also be skinny, tall, blonde, brunette, blue eyes, brown eyes, it doesn't matter that much but I like how they are nonetheless.
Brains = I love brains. A guy who knows his stuff and can argue about them, who thinks for himself and likes to investigate, gosh that's so sexy.
Humor = Because I'm too lame and I like to laugh.
Respectful with others
Thoughtful
Ambitious
And a good personality
No age there right? When we read of them we aren't even paying attention to it. If he makes us feel a certain way then he's the one. He can be a ten-year-old or a forty-year-old, or even a hundred-something-year old, and still fall for him. Maybe you won't marry him, but you have a deep affection towards them because of the common things. And the authors are also to blame, but we still love them for creating swoon worthy material to escape from reality. Also, how maybe you can fall for a woman too, it all depends of your sexual orientation because it's not really limited to men.
So, like my friend Marianne, who cares about age?! Read the book and dream of that hunky piece of meat or tall bone or chubby bear or.. or… what if he's an alien? Give some lovin' to that alien creature too. If one thing I've learned from the Bookworm community, is that we don't discriminate in these things, and when we like 'em, we like 'em and a number won't change it.
What do you think? Do you feel weird liking young guys in books? Leave your thoughts below! 
The following two tabs change content below.
I'm Marianne. Professional Fangirl, part-time Blogger. Full-time college student. GIFs are a natural part of my posts, so be warned. I LOVE reading, so definitely feel free to discuss books with me. Opinions are welcome.
Latest posts by Marianne @ Boricuan Bookworms (see all)
Related Posts