Back to the Future (Back to the Future Untold Tales and Alternate Timelines #1)

by Bob Gale, Brent Schoonover, David Witt, Erik Burnham, John Barber, Kelly Fitzpatrick, Luis Antonio Delgado
Genres: Action & Adventure, Comics & Graphic Novels, Fiction, Science Fiction, Sequential Art, Young Adult
Published by IDW Publishing on June 7th, 2016
Source: Netgalley
Goodreads
Amazon, Barnes & Noble , The Book Depository

Back to the Future creator/screenwriter Bob Gale returns with all-new tales from the twisting and turning timeline that made Back to the Future a, well... TIMELESS pop-culture phenomenon! Take a trip back to 1985 and be there when Doc Brown and Marty McFly first meet, and then jump even farther back, to 1945, to witness Doc's involvement in the super-secret Manhattan Project. Collects issues #1-5.
Since I was a kid, I've loved the Back to the Future Trilogy and would watch it constantly. This comic was a welcome addition to that obsession where readers are able to read a series of short stories surrounding the movie trilogy. I loved the art in each short story, each one being a different style to more detailed or loose, more vibrant colors to darkers, depending on the setting. Among the short stories, I was able to know more about the eccentric and loveable Doctor Emmett Brown before he knew Marty, how he even got to meet someone as Marty McFly, his life in the past with Miss Clayton and his kids, and even more. One of the many things I loved was the backstory to Miss Clayton before meeting Doc, and loved how I was able to relate to her with her love for books and how she was different among the women of her society, someone out of time, you may say.
It was great to also see more character development to some we already knew like Marty's parents about the things you expect couples to go through once in a while, and how the Biff from the future ever figured out how to travel with the Delorean.
Overall, it was highly entertaining and wonderful to rediscover this classic film story in a whole different way. A definite must for all fans, and I hope there are more of these <3
Rating: 5 stars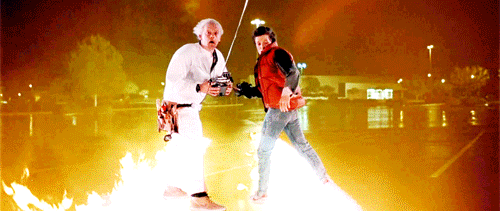 The following two tabs change content below.
I'm Jennifer. Addicted reader, and lover of books. I'm a full-time college student majoring in English Liturature and Linguistics & Communication, with aspirations of being a professional editor. Among other things. In the meantime, I obsess over books, history, art, and politics. I believe in freedom of speech and reading whatever you want. Open to discussions about anything and everything 🙂
Latest posts by Jennifer Madero (see all)
Related Posts