Mine to Spell

by Janeal Falor
Genres: Fantasy, Romance, Young Adult
Series: Mine #2
Published by Self Published on May 5th 2014
Source: Provided by Author
Goodreads
Amazon

Cynthia has always hidden from her father's hexes behind her older sister. When her family gains independence unheard of for women, she's relieved that her days of harsh punishments are over. But as her seventeenth birthday approaches—the typical age to be sold to a new master—death threats endanger her sisters. She now faces two options: run or meet society's expectations.

For once, Cynthia isn't going to let her older sister shield her from the problem. She's going to prove to herself, her sisters, and society that her family isn't a threat to their traditions. She willingly chooses to be purchased by a new master. A bold step that takes her somewhere she never thought she would go and to a man she might possibly fall in love with. With his help, she may just find a way to save her sisters while discovering how to stand up for herself. If she lives long enough.
Admittedly, Mine to Spell was really difficult to get into because I was really hoping to see more of Zade and Serena from Book One. I couldn't really connect to Cynthia much at first because I thought she was being really stubborn, and frankly very annoying. However, once I gave the book a chance, and kept reading on, I started to really get engrossed into the story.
I really liked the world building in this book, because it's much more focused on Warlock politics, and also it focuses a lot more on a woman's role in society in Chardonia. We really see how much women are treated as property, and we cheer for Cythia who actually openly fights against it.
We also meet some new characters, including the very charming Lukas (who I'd like to think of as Clark Kent; Superman's alter ego). Lukas is the love interest for Cynthia, and I've got to say that I always had a soft spot for him. If there's something Janeal Falor is good at, it's creating love interests.  Just like what happened to me with Zade, Lukas stole my heart and made me feel all gushy inside. Lukas was always so sweet and kind and charming, and it was really very difficult not to feel for him.
I like how Zade and Serena still played a part in this story (although I really would've wanted more! I can't get enough of these two!), while at the same time giving Cynthia the page time she deserved.
This book has amazing character growth, and the way it progressed was wonderful.
I've got to say that I did not appreciate the cliffhanger. I feel toyed with! The story had picked up so nicely, and I was literally clutching my reader hoping it would never end. Then, something happened and the book was over. I'm left feeling like: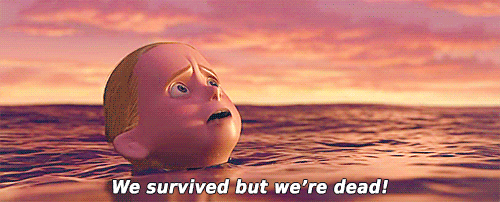 Overall, despite its shaky start, this book is still one to look out for. It's captivating and wonderful, and will leave you wanting more.
Rating: 3.5 stars
Things aren't as handy dandy as Serena and her sisters would've wanted after she takes them from her father. They get threats everyday as Cynthia's birthday arrives. When the day comes, and another threat happens, Cynthia makes the decision of selling herself to a warlock, and comply to society's demands of women.
I was, at first, hoping to read more of Serena and Zade from the previous book, You Are Mine. No such luck. It took me a while to get into the book because of that, plus Cynthia was really stupid in some things she was making and also the lack of them. I was at the border of not finishing it until I reasoned with myself and gave it a chance to win me over.
The previous book dealt a bit of politics, a bit of magic, a bit of what women go through Chardonia, but here we get a lot whole more. I was satisfied. I liked how Chardonia was even more explained here and built as a believable world. It dealt with the politics there and the neighboring countries, and my favorite, women. Chardonia is a place where male warlocks control the magic and everything, while women are submissive of them, a property treated as animals and worthless other than for carrying babies and to hex. They are mistreated, insulted, and all around unjust.
What I loved in this book the most was how, as the story went on, my love for Cynthia grew. She's fierce, stubborn, selfless, a fighter, caring, and awesome. She stood up for a society of male who manipulate everything and everyone, and became an icon for other women to look up to. And for men to respect.
Her character growth was amazing. She was reckless and very annoying at first, but as she saw what was happening and what she was becoming as she stood up for the council of Chardonia, she became something else, a true heroine worth learning from.
We see some of the all known characters like Zade, Serena, Waverly, the sisters, and a few new characters as well. Janeal Falor is a great author when mixing in her books social issues and romance into a story. I was often pounding my pillow at how bad the problems with Chardonia were, and curling my toes whenever the romance appeared. While this book wasn't completely centered in Zade and Serena, we are introduced to a new romantic couple, Cynthia and Lukas.
Man, are they swoony or what? If I thought Zade and Serena were perfect, these new two are beyond this world. It was cute to see them fall for each other slowly as the story progressed. They became stronger with the other, and the romance managed to put a lighter mood between the intense ones.
I like how this story, and the previous ones, give a message to women, and men, alike. We are equals and can be this or that no matter our sex. I am not greater than you because I am a woman, or you greater than me for being a man. We become great in our actions, not what others tell us to do, how to behave, or anything else than what we want. We are what we want, and should treat everyone as we would treat ourselves. No one is scum.
Overall, I loved the book to pieces, though the end was like a stab to the back. The book as a whole was like going on a rollercoaster. It's climbing up and up. Excitement builds up inside of you, and as the story comes to its end, the rollercoaster drops to the earth pumping adrenaline fast, and as you reach the end of the ride, it doesn't stop. It goes on and on until it crashes with that cliffhanger. I can't believe I'll have to wait another year until I can read the sequel. *sigh* Oh well. But it sure was worth it <3
Rating: 4 stars
Overall Rating:
The following two tabs change content below.
We're two Puertorican girls who want to share our love of reading with the world. We sometimes substitute words for GIFS and either rant or fangirl a lot in our reviews. Talk to us about anything! 🙂
Latest posts by Boricuan Bookworms (see all)
Related Posts