Genre: Contemporary Romance, Chick Lit, Humor, Women's Fiction
Series: #1
Publisher: Hodder & Stoughton
Publication Date: March 14th 2013 (first published May 1st 2012)
Source: eARC Provided by Publisher via Netgalley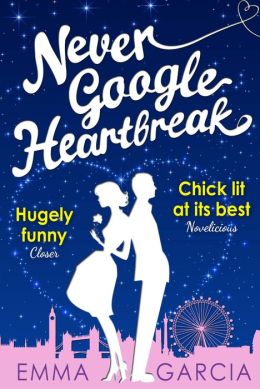 Goodreads Summary:
When her fiancé Rob breaks off their engagement for the third time, Viv does what any girl would do – she Googles heartbreak.
Confronted by tales of misery, she decides to set-up her own self-help website for the broken-hearted. But as Viv passes through the three essential stages of grief (denial, vodka, disastrous haircut), she becomes determined that it's not too late to try and get Rob back.
When things get out of hand after a drunken declaration of love at an extremely inappropriate moment, Viv's scruffy, tequila-swilling best friend Max is there to pick up the pieces. Viv starts to realise that maybe the real thing has been under her nose all this time, and now – one ex and a massive error of judgement later – she has to face the question:
What's the craziest thing you'll do for love?
Vivienne is about to get married with the love of her life, Rob. But after the third time of postponing their wedding, Viv decided it's best to go with Rob's plan and take a break. Once on her own place, she's convinced he's gonna come crawling back to her and want to marry her right that instant. He is, after all, the man made for her and she was the woman made for him. Or so she thought. After a few months of no calls or texts whatsoever, Viv is met with the horrifying truth that Rob might have already moved on with someone else, and to top it off they're getting married! All starts to spiral out of control when it comes to Rob and her own work, although some things start to arise with her best friend Sam whom she never considered while she had Rob. Also, her website, Never Google Heartbreak, might just be what she's made for: to give advice and tips to both women and men when it comes to when someone pulls those heartstrings.
That sounds so cute and romantic, but to be honest, I detested this whole book, specially Viv. This book was definitely NOT a better love story than Twilight. I rather be stranded on an island with the whole Twilight Saga for a long period of time than to read this again. I'm a Twihard and even I admit there are some things I don't like of the whole story, but it was damn better than this. Now my reasons.
Vivienne, Vivienne, motherflower Viv. Where do I start with you, Viv? How about how irresponsible you are for being a thirty-year-old-something woman? You let your job go to failure, you let your boss toss you around like scum just because you were missing Rob so damn much. How about how selfish you are? Because your problems come before your own best friend's happiness, because like your friend Lucy, I'd get tired of your stupid mopping shit if you kept bringing the subject each time we talked and behaved like Rob was the best drug in the world. How about how selfish and irresponsible you are again? Yeah, because in your tiny puny brain having make-up sex with your ex, who was going to marry another woman a few days ago, is more important than your own GRAN. Dafuq? I KNOW!
Ugh, everything about Viv is excruciatingly annoying and exasperating. She behaves like a thirteen-year-old infatuated with the "love of her life" that she cannot function well without a text or a stupid petname. She criticized and shamed everyone around her, because she is so fucking special that no one can be above her. She judged without knowing the person, only by their appearance and what others said, also to her convenience.
And she was so blunt and naive. She kept running back to the worthless piece of crap named Rob. Every time this happened I was on the brink of hitting my head with my Kindle. Fortunately, I appreciate my neurons a lot to do that. It wasn't until it was almost late that she FINALLY opened her eyes and saw the truth of everything!
I try to be understanding of some characters when I dislike them a lot, but I couldn't with Viv. I tried to think "Okay, people behave like that some times when it comes to losing a loved one like that." It didn't help. I was once infatuated with a guy after we kinda broke up, and I didn't abandon my studies for that. I was sad and almost got into depression (though I think I did) but I kept moving on knowing that things happen for a reason and one day it'll all be forgotten! Three years now and I am so okay!
What I'm trying to get is that this book doesn't give a good example. Granted, not all books are subject to giving an example, but come on! Fictional women mopping over men through a fictional website made me want to gag constantly by how ridiculous they were. Okay, mop a day, a week even! But the thing is that you have to stand up for yourself and move on. If it ended, it was for a reason. And the problem is that a lot of women believe that because a man doesn't love her then she isn't gonna be happy ever. No, you can be alone and be happy about it.
Back to the review…
The story's plot was a bit messy alternating between mopping about Rob, the website, judging people, slacking from work like a bimbo schoolgirl (but at least some of those do some of their work), and Viv in general being selfish. It was slow and took a while to get to the good stuff, which was Sam. Sam was a nice kind of character I enjoyed tons reading about, but he deserved better than Viv.
Would I re-read it? NOPE. Read the sequel? Sure, maybe by then Viv has changed a bit with Sam rubbing off some of his good stuff on her. The writing style in general when it came to descriptions wasn't bad, I'll give the author credit for that. It was easy to grasp and fast to read. My only problem was Viv. And if the main character is like that, because the story is narrated from her view, I won't enjoy the story as much.
Rating: 1 star
The following two tabs change content below.
I'm Jennifer. Addicted reader, and lover of books. I'm a full-time college student majoring in English Liturature and Linguistics & Communication, with aspirations of being a professional editor. Among other things. In the meantime, I obsess over books, history, art, and politics. I believe in freedom of speech and reading whatever you want. Open to discussions about anything and everything 🙂
Latest posts by Jennifer Madero (see all)
Related Posts