Genre: New Adult, Contemporary, Romance
Series: Slammed, #2
Publisher: Aria Books
Publication Date: February 25th 2012
Source: Provided by Publisher via Netgalley
Goodreads Summary: Hardships and heartache brought them together…now it will tear them apart.
Layken and Will have proved their love can get them through anything; until someone from Will's past re-emerges, leaving Layken questioning the very foundation on which their relationship was built. Will is forced to face the ultimate challenge…how to prove his love for a girl who refuses to stop 'carving pumpkins.'
My thoughts:
I enjoyed this book much more than Slammed because of two reasons:
-Will's POV
-This one touched the plethora of themes more than Slammed did.
Now, when I say that I enjoyed Will's POV, is because I fell head over heels for Will in the first book. Will was a combination of sexy and perfect. He was pexy(may have to work on that more…) . Anyways, in this book we finally see what's going on through his head, and we get to fall in love with him even more.
Now, there is a downside to this, and it's that I got to HATE Layken in this book. I didn't hate her because she was with Will, no, I hated her because she kept breaking his heart over and over again. This book follows the typical "second book break up" syndrome. The main characters have an amazing relationship, but because Layken suddenly thinks of "what if" situations, she decides to break up the relationship.
I mean, how could she doubt Will's feeling after he's been there for her over and over and over again.  I honestly admire Will for putting up with Layken's shit attitude.
Through the whole book we have to put up with Layken's need to "carve pumpkins" and ignore the real situation at hand, while we're reading Will's innermost thoughts, and seeing how much he loves her and how much he's hurting because of her.
I think that if the book had only revolved around this fact, I would have probably rated this about 1 star. But, I'm glad that the author included other subplots, because I found that this time around, they were very well explored.
The main problem I had with Slammed was that there were too many themes at hand that maybe weren't really very well mentioned.
In Point of Retreat, we get new themes, such as family and bullying that really did touch me on a personal level. I cried like a baby here, because I realized how, slowly but steadily I got invested in these characters and their situations.
Nevertheless, this book suffered from many clichés. MANY. I felt at one point that everything that could go wrong, did.
Anyways, I loved the new characters that were mentioned here. Kiersten and her mom where like a breath of fresh air!  I think that without them the story wouldn't have run as smoothly.
I've seen plenty of negative reviews for this book, just because of the way it ended. Let me tell you something: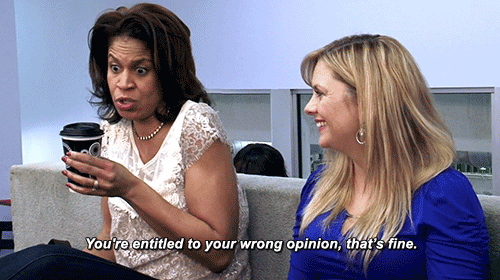 I think the book ended wonderfully considering everything everyone went through. (This may or may not be a spoiler, read at your own risk). I believe in  the end, that even if Layken is annoying beyond belief, that she and Will are "it" for each other. Their love has gone through it all, and even if I don't understand them at times, I definitely will stick by their decision.
Overall, I enjoyed this book much more than the first one, but I still believe it could have been much better.
Rating: 4 stars
Find the Book: Amazon| Kobo | Goodreads
Author: Website
The following two tabs change content below.
I'm Marianne. Professional Fangirl, part-time Blogger. Full-time college student. GIFs are a natural part of my posts, so be warned. I LOVE reading, so definitely feel free to discuss books with me. Opinions are welcome.
Latest posts by Marianne @ Boricuan Bookworms (see all)
Related Posts