Genre: Fantasy, Romance, Adventure, Young Adult, Classics
Publisher: Houghton Mifflin Harcourt (Though it's also been publisher by Del Rey,  Ballantine Books, Bloomsbury, among others through the years)
Publication Date: October 8th 2007 (first published 1973)
Source: Own eBook Copy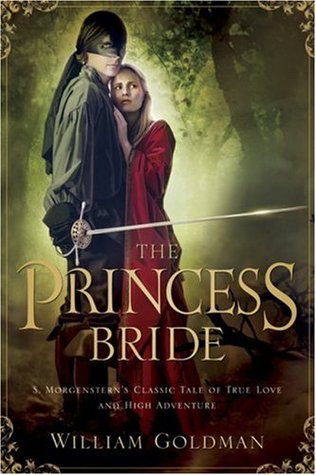 Goodreads Summary: 
A tale of true love and high adventure, pirates, princesses, giants, miracles, fencing, and a frightening assortment of wild beasts — The Princess Bride is a modern storytelling classic.

As Florin and Guilder teeter on the verge of war, the reluctant Princess Buttercup is devastated by the loss of her true love, kidnapped by a mercenary and his henchmen, rescued by a pirate, forced to marry Prince Humperdinck, and rescued once again by the very crew who absconded with her in the first place. In the course of this dazzling adventure, she'll meet Vizzini — the criminal philosopher who'll do anything for a bag of gold; Fezzik — the gentle giant; Inigo — the Spaniard whose steel thirsts for revenge; and Count Rugen — the evil mastermind behind it all. Foiling all their plans and jumping into their stories is Westley, Princess Buttercup's one true love and a very good friend of a very dangerous pirate.
The first time I knew of The Princess Bride was when I saw the movie as a kid. I thought it was ridiculous and weird, yet liked it all the same for those things. But I admit I didn't understand most of what was happening. Now, after reading the book, I laugh even more and appreciate all the tiny details of the movie as never before. My family once saw it with me a few months back this year (2014) and they all had these weird expressions and kept asking why I was watching that. All I did was frown at them and keep laughed as Westley yelled "As You Wish!" as he went downhill.
I read this book last year so there are some small details I can't remember well… This book is about the great love between Buttercup and Westley, how it can survive death, go against kings and pirates, and anything else it encounters.
At first when I began reading, it felt ridiculous how Buttercup could love someone a day after not having much emotion towards them the day before. She's the only character I don't love much of all the wonderful cast. She's extremely thick, selfish, annoying, but funny all the same. I like her more in the movie because there she's portrayed as a stronger female character.
I also particularly liked how there was a story within the story. I won't spoil because it takes the magic of the whole book. When you read it, make sure to search the history of The Princess Bride and who is S. Morgenstern. Don't do it now. Please don't. Do it afterwards. I guarantee that you will facepalm and remain baffled for a while. I was. I felt like such an idiot…
This book is full of fights, love, vengeance, adventure, intrigue, a wedding to stop, and lots and lots of humor. I remember having to read a novel for a school assignment and I chose this instead. I would be constantly snorting, laughing, chuckling, gasping at what would happen and even almost cry!
Overall, it was a great story of high adventure you won't want to miss. Perfect for when you want to try something different from the usual YA books nowadays. The movie is a bit different than the book (I mean DUH) but both are incredibly made but in the essence it's the same. Now I feel like watching it.
Rating: 5 stars
A Few Favorite Quotes:
"Inconceivable!"
"You keep using that word. I do not think it means what you think it means."

"You seem a decent fellow," Inigo said. "I hate to kill you."
"You seem a decent fellow," answered the man in black. "I hate to die." 

"Now what happens?" asked the man in black. 
"We face each other as God intended," Fezzik said. "No tricks, no weapons, skill against skill alone."
"You mean you'll put down your rock and I'll put down my sword and we'll try to kill each other like civilized people, is that it?"

"You mock my pain! Life is pain, anyone who says otherwise is obviously selling something!" 

"I must be overtired', Buttercup managed. 'The excitement and all.'
'Rest then', her mother cautioned. 'Terrible things can happen when you're overtired. I was overtired the night your father proposed." 
And the parting GIF <3
The following two tabs change content below.
I'm Jennifer. Addicted reader, and lover of books. I'm a full-time college student majoring in English Liturature and Linguistics & Communication, with aspirations of being a professional editor. Among other things. In the meantime, I obsess over books, history, art, and politics. I believe in freedom of speech and reading whatever you want. Open to discussions about anything and everything 🙂
Latest posts by Jennifer Madero (see all)
Related Posts