Weekly Wrap Up
It's the weekend again! Three Kings Day has come and gone, and with it, another week of holiday vacations for us in Puerto Rico. Plenty people on the island are already preparing to go back to work, or to school, while I'm here in my house like: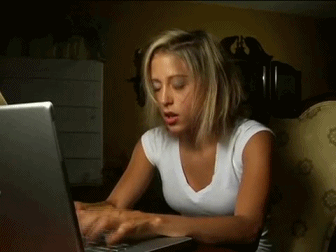 I'm still on vacation, and will continue to be so until the 20th of January! Between scheduling blog posts, and binge watching series on Netflix, I don't want these vacations to end.
In case you missed it:
You can also find the blog button in the sidebar (located at the bottom of this page). 🙂
Also on Twitter, I'm giving away a $5 Amazon Gift Card! Try your luck 🙂
What Happened This Week:
Around the Web:
Asti confesses that she's not really a big fan of audiobooks. She loves podcasts instead.
Karen @ For What It's Worth shares her current musical obsession: George Ezra. I got to agree with her; he's awesome.
Lola discusses the unfortunate feeling when you hate a book by an author you like.
Jeann shares her 2015 commitments.
Cait @ Paper Fury wows us again with her brilliant insight on retellings.
I've got to admit that I've been on Facebook more than I'd like to say, and one of my friends shared this video with me; the process of making a book. I thought it was really interesting, which is why I'm sharing it with you guys!
Stacking the Shelves
Stacking The Shelves is a meme hosted by Tynga's Reviews and it's all about sharing the books you are adding to your shelves, may it be physical or virtual. This means you can include books you buy in physical store or online, books you borrow from friends or the library, review books,gifts and of course ebooks! It gives us bloggers a chance to share what we books we've acquired over the last week(s).
I finally received the books I bought as part of the Barnes and Noble end of the year bargain books sale! I'm pretty proud of myself, as I only bought a couple of books.
Eleanor & Park- Special Barnes and Noble Edition by Rainbow Rowell
Wedding Night by Sophie Kinsella
Despite what the price tags say, each book cost me $2.99, except Eleanor & Park, which my mom bought for me (it was ($10!).
Gifted: 
My mom gifted me the Game of Thrones boxset for Three Kings Day because she knows I'm a fan of the show. I've heard the books are way better… so I guess I'll have to see.
My best friend has recently moved away, and couldn't take so many books with her, so she told me to take whichever books I wanted. In the end I choose The Angel Experiment & School's Out Forever by James Patterson (first 2 books in his Maximum Ride series) because I don't remember what happened in them and want to continue the series; and also Beautiful Disaster by Jamie McGuire because I just want to read this one and get it over with.
For Review: 
I actually got a couple of books for review, I blame the holidays and my lack of self-control with Edelweiss, so I'll wait until next week to post those. 
What did you get this week? Leave me links to your blog posts to check it out! 
The following two tabs change content below.
I'm Marianne. Professional Fangirl, part-time Blogger. Full-time college student. GIFs are a natural part of my posts, so be warned. I LOVE reading, so definitely feel free to discuss books with me. Opinions are welcome.
Latest posts by Marianne @ Boricuan Bookworms (see all)
Related Posts