Weekly Wrap Up
Hello, lovelies! A lot has been going on this week, and Jennifer and I are barely able to catch up.
First of all, the blog is officially two years old! The blogaversary was yesterday, June 5th (which is coincidentally the birthday of one of my puppies), but we were so out of it we only just remembered it. We'll eventually be writing an official post with a giveaway and everything, but for the mean time let's have a 10 second dance party in celebration, yes? Let's begin: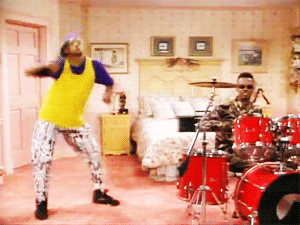 Welcome back! So, as I was saying this week is a big week of changes. I've started reviewing in another blog (because I'm that insane) and so far I've been trying to understand how blogger works… It's a work in process.
So, Jennifer and I were buddy reading Paper Towns in preparation for the movie that is coming out. Please don't ask us about the single most frustrating period of our lives. Paper Towns was a total letdown; we absolutely hated every single thing about it.
Now we're down to the biggest announcement… *drumroll* We have a new reviewer on board! I used to blog over at Cristina's Book Reviews with her, and when that blog closed, I invited her over. Wanna know the best part? She's Puertorican. *fist bump*. Here's what you need to know about her:
I am a stay at home wife and mom to a gorgeous baby girl and handsome husband, attending school full time for my bachelors. I have a mild obsession with the 'one-click', bad boys, and fantasy lands. My kindle is hoarding way to many books that need be read-and still adding to the list. I love sharing my thoughts and humor and always looking for me new favorite read. Excited to be joining Marianne and Jennifer with never-ending reading!

My blog: http://pandorasopenedbox.blogspot.com/p/about-me.html
Goodreads: https://www.goodreads.com/review/list/36652624-pandora-nyx?shelf=read
Twitter: https://twitter.com/pandora_nyx
She'll be popping in and out writing the ocassional review, so keep your eyes out for her 🙂
On Instagram:
Jennifer and I have been more involved in Instagram lately, and we're loving the whole bookstagram scene.  (Jennifer might be having a book challenge obsession where she can't stop even though she hates to make a mess with her books.) Here are some of our pictures of this month (click the image to see it on Instagram):
Posts you may have missed:
That's it for now! Has your week been just as hectic?
The following two tabs change content below.
I'm Marianne. Professional Fangirl, part-time Blogger. Full-time college student. GIFs are a natural part of my posts, so be warned. I LOVE reading, so definitely feel free to discuss books with me. Opinions are welcome.
Latest posts by Marianne @ Boricuan Bookworms (see all)
Related Posts