2015 so far has been great. For the book industry, it's going to be a really great year for books. I've made a nice list consisting of 12 books that'll be publishing during the year, that you should really really add to your neverending to-read list (I know I have!).
January
The Ghosts of Heaven by Marcus Sedgwick: Released on January 6th, 2015

A bold, genre-bending epic that chronicles madness, obsession, and creation, from the Paleolithic era through the Witch Hunts and into the space-bound future.

Four linked stories boldly chronicle madness, obsession, and creation through the ages. Beginning with the cave-drawings of a young girl on the brink of creating the earliest form of writing, Sedgwick traverses history, plunging into the seventeenth century witch hunts and a 1920s insane asylum where a mad poet's obsession with spirals seems to be about to unhinge the world of the doctor trying to save him. Sedgwick moves beyond the boundaries of historical fiction and into the future in the book's final section, set upon a spaceship voyaging to settle another world for the first time. Merging Sedgwick's gift for suspense with science- and historical-fiction, Ghosts of Heaven is a tale is worthy of intense obsession.
Marcus Sedgwick has always written a plethora of books all my friends seem to love. While science fiction isn't a genre I love I think I should read this story, if only to be confused after.
February
I'll Meet You There by Heather Demetrios: Releasing on February 3rd, 2015

If seventeen-year-old Skylar Evans were a typical Creek View girl, her future would involve a double-wide trailer, a baby on her hip, and the graveyard shift at Taco Bell. But after graduation, the only thing standing between straightedge Skylar and art school are three minimum-wage months of summer. Skylar can taste the freedom—that is, until her mother loses her job and everything starts coming apart. Torn between her dreams and the people she loves, Skylar realizes everything she's ever worked for is on the line.

Nineteen-year-old Josh Mitchell had a different ticket out of Creek View: the Marines. But after his leg is blown off in Afghanistan, he returns home, a shell of the cocksure boy he used to be. What brings Skylar and Josh together is working at the Paradise—a quirky motel off California's dusty Highway 99. Despite their differences, their shared isolation turns into an unexpected friendship and soon, something deeper.
I love the sound of this book, I love the sound of both protagonists, and there are many reviews already that make it sound amazing. I do not want to miss out!
March
Liars, Inc. by Paula Stokes: Releasing on March 5th, 2015

Max Cantrell has never been a big fan of the truth, so when the opportunity arises to sell forged permission slips and cover stories to his classmates, it sounds like a good way to make a little money and liven up a boring senior year. With the help of his friends Preston and Parvati, Max starts Liars, Inc. Suddenly everybody needs something and the cash starts pouring in. Who knew lying could be so lucrative?

When Preston wants his own cover story to go visit a girl he met online, Max doesn't think twice about hooking him up. Until Preston never comes home. Then the evidence starts to pile up—terrifying clues that lead the cops to Preston's body. Terrifying clues that point to Max as the murderer.

Can Max find the real killer before he goes to prison for a crime he didn't commit? In a story that Kirkus Reviews called "Captivating to the very end," Paula Stokes starts with one single white lie and weaves a twisted tale that will have readers guessing until the explosive final chapters.
This book has been recommended for fans of Gone Girl and the TV show, How to Get Away With Murder. Seeing as I love both of these, how can I say no? Plus I read another Paula Stokes book, so I know I'd like her writing style.
April
None of the Above by I.W. Gregorio: Releasing on April 7th, 2015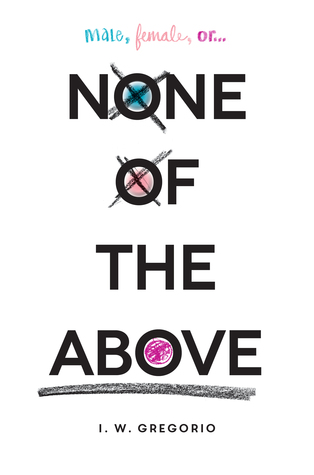 A groundbreaking story about a teenage girl who discovers she's intersex . . . and what happens when her secret is revealed to the entire school. Incredibly compelling and sensitively told, None of the Above is a thought-provoking novel that explores what it means to be a boy, a girl, or something in between.

What if everything you knew about yourself changed in an instant?

When Kristin Lattimer is voted homecoming queen, it seems like another piece of her ideal life has fallen into place. She's a champion hurdler with a full scholarship to college and she's madly in love with her boyfriend. In fact, she's decided that she's ready to take things to the next level with him.

But Kristin's first time isn't the perfect moment she's planned–something is very wrong. A visit to the doctor reveals the truth: Kristin is intersex, which means that though she outwardly looks like a girl, she has male chromosomes, not to mention boy "parts."

Dealing with her body is difficult enough, but when her diagnosis is leaked to the whole school, Kristin's entire identity is thrown into question. As her world unravels, can she come to terms with her new self?
I don't think I know what intersex is (and if I do my knowledge is really limited) so I am eager to read a book like this.
May
The Fill-In Boyfriend by Kasie West: Releasing on May 5th, 2015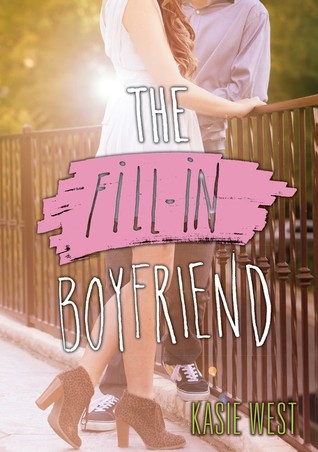 When Gia Montgomery's boyfriend, Bradley, dumps her in the parking lot of her high school prom, she has to think fast. After all, she'd been telling her friends about him for months now. This was supposed to be the night she proved he existed. So when she sees a cute guy waiting to pick up his sister, she enlists his help. The task is simple: be her fill-in boyfriend— two hours, zero commitment, a few white lies. After that, she can win back the real Bradley.

The problem is that days after prom, it's not the real Bradley she's thinking about, but the stand-in. The one whose name she doesn't even know. But tracking him down doesn't mean they're done faking a relationship. Gia owes him a favor and his sister intends to see that he collects: his ex-girlfriend's graduation party — three hours, zero commitment, a few white lies.

Just when Gia begins to wonder if she could turn her fake boyfriend into a real one, Bradley comes waltzing back into her life, exposing her lie, and threatening to destroy her friendships and her new-found relationship.
ANOTHER KASIE WEST BOOK OHMYGOD I DON'T CARE I WANT IT NOW.
June
The Leveller (The Leveller #1) by Julia Durango: Releasing on June 23rd, 2015
Nixy Bauer is a self-made Leveller. Her job? Dragging kids out of virtual reality and back to their parents in the real world. It's normally easy cash, but Nixy's latest mission is fraught with real danger, intrigue, and romance.

Nixy Bauer is used to her classmates being very, very unhappy to see her. After all, she's a bounty hunter in a virtual reality gaming world. Kids in the MEEP, as they call it, play entirely with their minds, while their bodies languish in a sleeplike state on the couch. Irritated parents, looking to wrench their kids back to reality, hire Nixy to jump into the game and retrieve them.

But when the game's billionaire developer loses track of his own son in the MEEP, Nixy is in for the biggest challenge of her bounty-hunting career. Wyn Salvador isn't some lazy kid looking to escape his homework: Wyn does not want to be found. And he's left behind a suicide note. Nixy takes the job but quickly discovers that Wyn's not hiding—he's being held inside the game against his will. But who is holding him captive, and why?

Nixy and Wyn attempt to fight their way out of a mind game unlike any they've encountered, and the battle brings them closer than either could have imagined. But when the whole world is virtual, how can Nixy possibly know if her feelings are real?

Gamers and action fans of all types will dive straight into the MEEP, thanks to Julia Durango's cinematic storytelling. A touch of romance adds some heart to Nixy's vivid, multidimensional journey through Wyn's tricked-out virtual city, and constant twists keep readers flying through to the breathtaking end.
The summary itself sounds amazing. I really want to read this book.
July
Survive the Night by Danielle Vega: Releasing on July 7th, 2015
 We're all gonna die down here. . . .

Julie lies dead and disemboweled in a dank, black subway tunnel, red-eyed rats nibbling at her fingers. Her friends think she's just off with some guy—no one could hear her getting torn apart over the sound of pulsing music.

In a tunnel nearby, Casey regrets coming to Survive the Night, the all-night underground rave in the New York City subway. Her best friend Shana talked her into it, even though Casey just got out of rehab. Alone and lost in the dark, creepy tunnels, Casey doesn't think Survive the Night could get any worse . . .

. . . until she comes across Julie's body, and the party turns deadly.

Desperate for help, Casey and her friends find themselves running through the putrid subway system, searching for a way out. But every manhole is sealed shut, and every noise echoes eerily in the dark, reminding them they're not alone.

They're being hunted.

Trapped underground with someone—or something—out to get them, Casey can't help but listen to her friend's terrified refrain: "We're all gonna die down here. . . ." in this bone-chilling sophmore novel by the acclaimed author of The Merciless.
After reading The Merciless by Danielle and loving it, I definitely HAVE to read this one! Doesn't it sound chilling?
August
How to Say I Love You Out Loud by K.A. Cozzo: Releasing on August 4th, 2015
Words are strong. Love is stronger.

When Jordyn Michaelson's autistic brother joins her at her elite school, she's determined not to let anyone know they're related. Even if that means closing herself off to all her closest friends, including charming football stud Alex Colby. But despite her best intentions, she just can't shake the memory of kissing Alex last summer, and the desire to do it again.

Can Jordyn find the courage to tell Alex how she really feels—and the truth about her family—before he slips away forever?
I predict a heavy dose of feels with this book. Bring it on.
September
Tonight the Streets Are Ours by Leila Sales: Releasing on September 15, 2015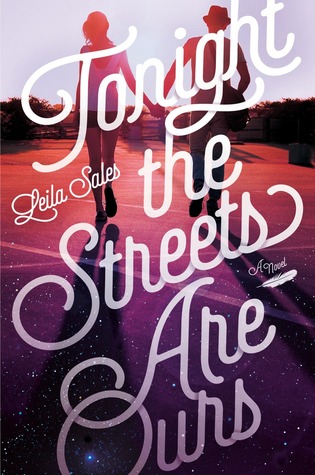 Tonight the Streets Are Ours is a YA novel about a teen girl living in the suburbs who becomes obsessed with a blogger in New York City, and sets out to track him down in real life.
Stalking down a blogger, you say? Why not?!
October
The Sword of Summer by Rick Riordan: Releasing on October 6th, 2015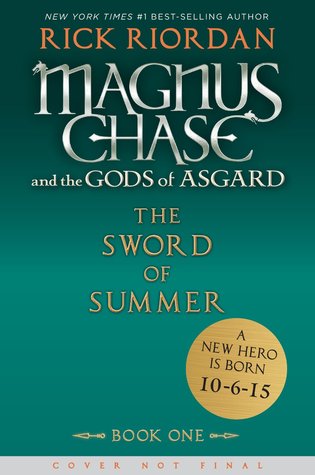 Magnus Chase has always been a troubled kid. Since his mother's mysterious death, he's lived alone on the streets of Boston, surviving by his wits, keeping one step ahead of the police and the truant officers. One day, he's tracked down by an uncle he's never met—a man his mother claimed was dangerous. His uncle tells him an impossible secret: Magnus is the son of a Norse god. The Viking myths are true. The gods of Asgard are preparing for war. Trolls, giants and worse monsters are stirring for doomsday. To prevent Ragnarok, Magnus must search the Nine Worlds for a weapon that has been lost for thousands of years. When an attack by fire giants forces him to choose between his own safety and the lives of hundreds of innocents, Magnus makes a fatal decision. Sometimes, the only way to start a new life is to die . . .
Just give me the book and no one gets hurt, okay?
November
Winter by Marissa Meyer: Releasing on November 24, 2015
No summary or cover for this book yet. All we know is that it's going to be about Snow White. It'll be the last installment in Marissa Meyer's The Lunar Chronicles series. I can't wait!
December
Starbound #3 (Untitled) by Amie Kaufman & Meagan Spooner: Releasing on December 2015
There's no cover, no summary, and not publication date listed for this book. However I am DESPERATE for it to come out already. I've loved both These Broken Stars and This Shattered World and I just wanna know how it all ends, okay? D:
How many of these will you be adding to your list?